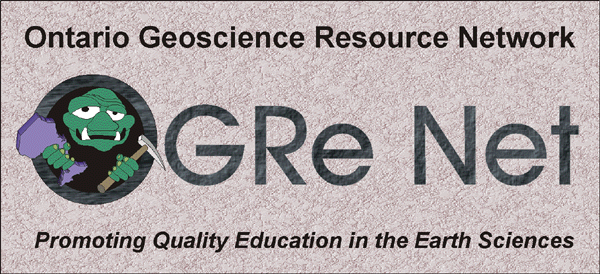 What is OGReNet ?: Our Mission
OGReNet (Ontario Geoscience Resource Network) is a new initiative, created by the Department of Earth Sciences of the University of Western Ontario, in partnership with Geoscience Departments of other Ontario Universities, that aims to provide resources for educators who teach aspects of Earth and Space Sciences and to serve as a liaison for teachers and the Ontario geoscience community. OGReNet is funded by the PromoScience Program of the Natural Science and Engineering Research Council (NSERC) of Canada, and the Youth Science and Technology Program operated by the Ministry of Enterprise, Innovation and Opportunity of the Government of Ontario. This funding ensures that all services provided by OGRe-Net will be free of charge to all users.
Why should you be interested in OGReNet ?
OGReNet is being constructed for the purpose of providing educators with information relevant to the interests of their students, geographic location of participating schools, and the learning goals outlined in the Ontario K - 12 Science curriculum. The initiation of OGReNet was largely a response to the growing concern of Ontario teachers about the availability, cost, and quality of Earth Science-related teaching resources available to them. OGReNet aims to address these concerns and to allow teachers to participate in the improvement of resources available to all Ontario teachers through our services. Another goal of OGReNet is to strengthen links between Ontario primary and secondary school teachers and the personnel of Geoscience departments of Ontario Universities.
The Main Elements of OGReNet
Ontario Rocks !: The OGReNet Interactive Map
Geological concepts are most tangible to students when discussed in context of geological features that can be observed nearby. Ontario boasts a rich and varied geological history recorded its landscape, bedrock geology, and mineral industries, and all areas of Ontario (including yours) have features of particular geological importance.
Your role: Have you ever wondered how the Niagara Escarpment was formed, or how the Great Lakes came to be ? Have you ever considered the kinds of information rocks found in your local gravel pit might record ? Have you ever pictured what your area may have looked like millions of years ago ? Tell us about the features in your area you would like to know more about ! Our team of geoscientists will answer your questions and will feature the area of interest on OGRe-Net. This information will be compiled and incorporated into an interactive online map of Ontario that will allow teachers in your area to get to know Ontario geology a little better.
Recipes for Education: The OGReNet Teaching Resource Bank
Have you found it difficult to find good ideas on how to teach aspects of Earth Sciences ? Our online teaching resource bank will provide you with ideas for fun, cheap, and easy activities that can be used to supplement your lessons.
Your role: If you have any ideas of your own you wish to share with other teachers, by all means, let us know ! We will include them in our resource bank and acknowledge your school's contribution !
Other Features of OgreNet
Museums and Displays around Ontario
Geoscience University Outreach Programs
Geoscience Industry Links and Outreach Programs


If you wish to contribute ideas or comments, please contact us !:
You can use this feedback form if you wish.
OGRe-Net, Dr. Cam Tsujita (Coordinator)
Department of Earth Sciences
Biological and Geological Science Building
The University of Western Ontario
London, Ontario, Canada
N6A 5B7
Tel: (519) 661-3187 ext. 86740; fax: (519) 661-3198
EMAIL: ctsujita@uwo.ca

OGRe-Net Webmaster: Dr. Denis Tetreault
Department of Earth Sciences
University of Windsor
Windsor, Ontario



A University of Western Ontario/NSERC PromoScience/Government of Ontario project.